Wednesday Word is here again, where a bunch of us bloggers join up with
DebRuns.com
to write our thoughts about a particular word. This week's word is ENERGETIC, and if you click on the Scrabble button here, you can see their positive energy.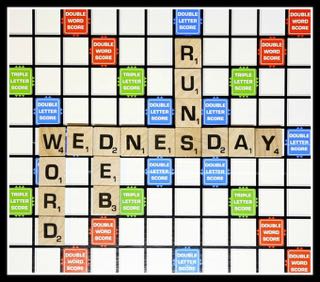 And now I'm going to tell you about the positive energy I got last week from a visit to my physical therapist.
I'm seeing a great PT to strengthen up the muscles in my leg to support my achy knee. The company is called
Excel Rehabilitation
and I am working with a terrific young woman named Jackalyn. She is smart, understanding, and is challenging without being mean. I've been to five sessions now and I'm really pleased with how my knee is feeling. I have a lot of confidence in Jackalyn and Excel.
The rehab place shares space with a racquet club that has a nice gym. I was getting warmed up on one of the bikes in the gym when I heard a very familiar voice. I turned around and was delighted, thrilled,
overjoyed
to see Mrs. Halverson.
Mrs. Halverson has known me longer than anyone alive except for my aunts and uncles. She and her husband were Navy friends of my mom and dad, frequently sent to the same duty stations. They were very close. After my mom died in 2004, I'm pretty sure that Capt. Halverson's companionship is what kept my dad going. When my dad passed away in 2007, Capt. Halverson died two weeks later. And, sadly, my sister and I kind of lost touch with Mrs. Halverson.
But there she was at the gym,
looking like she always had.
Mrs. H. is a beautiful woman. She is so elegant that when I was a kid and was acting like a jerk (it happened), she would step in and announce that she was going to give me "princess lessons" because of course she was a princess. And if you met her, you would believe it. Silvery blonde hair, always dressed impeccably, and her Alabama drawl is so smooth and soft you'd think she had a drop of honey in her mouth all the time.
It's that inimitable voice that I heard as I got off the bike. I gasped, and she looked up and asked, "What, did I
do
something?" And then she recognized me and we had so much fun catching up that Jackalyn had to come get me for the rest of my PT session.
My dad would have been 80 in January. Mrs. Halverson can't be too far behind. But there she was working out with her trainer, perfect hair and make-up, a cute t-shirt, and telling me about her new car ("Did you see my car in the parking lot?"). That is the kind of energetic that I want to be not just in the future, but right now. Princess lessons, indeed.