It's Wednesday, the last Wednesday of 2016. And once again this week I am linking up with a bunch of bloggers to share our thoughts on the Wednesday Word at Debruns.com. Today, very fittingly, we're talking about resolutions.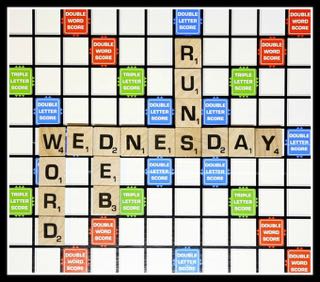 Do you have any goals for the new year? Anything you'd like to change? Are any of your goals or resolutions running related?
My resolution has to do with strength. It's been awhile since I've put effort into cross training, and once my run streak is over (plus the New Year's race I signed up for and the Magic Mile I'm trying out for the first time on Saturday) (I really need to stop, no?), I'll be back at the pool. At the gym, too, learning how to use all those machines again.
And I have a change I've been thinking of for a little while: I'm going to take a break from the blog. I started
Mom and Dad Track Stars
in 2011 when I was training for my first marathon, and now I've determined that 26.2 is a race distance with which I am parting. If there's going to continue to be a
Mom and Dad Track Stars
, it's going to evolve a little (a revolution, if you will, as opposed to a resolution) and I'm going to figure that out quietly.
There are brilliant people writing, full of advice and building wonderful communities of followers. You can click that Scrabble-looking link to hear from quite a few of them! I plan to be one of those followers. But I am going to take a rest from this biweekly (or so) greeting.
If you've read my blog, I cannot thank you enough! Anyone who has said anything to me about enjoying it, believe me, your kindness has been appreciate more than you know. And listen, keep in touch:
Twitter: @anannereynolds
Instagram: @anannereynolds7
Snapchat: what is that?