For this Wednesday, I'm writing about . . .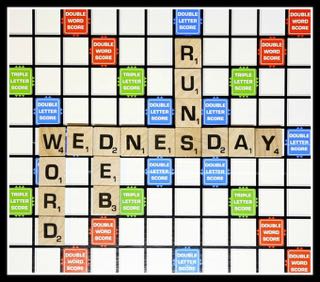 This is part of the Wednesday Word link-up that Debbie at
DebRuns.com
shares -- please go check over her site and see what a great variety of bloggers are anticipating. But then come back here and read my stuff!
The thought of anticipation goes hand in hand with an element of waiting; it's the silver lining of the wait "cloud." It's a good part of the journey.
I think no one gets this better than the people who put together the Marine Corps Marathon. Once you are registered for it, you get an email or two about being Mission Ready. But as the race nears, the emails get more frequent and more inspiring, and they get you so excited for the event that you wonder if it can possibly live up to what you've anticipated.
(In my two times running that thing, it definitely has.)
I once saw a news report or TV show about lottery players, and the lottery spokesperson explained that when someone buys a ticket, they're actually buying a dream. It's the same thing -- you're buying the anticipation of being suddenly richer (even if it's only $5 richer). And unfortunately, unlike the Marine Corps Marathon, I haven't had the opportunity to find out if that particular reality lives up to my visions of millions in the couple of times I've bought in to that dream.