Since it's Wednesday, I'm linking up with a lot of great bloggers at DebRuns.com for the Wednesday Word. Want to check out their stuff? Click on this link right here!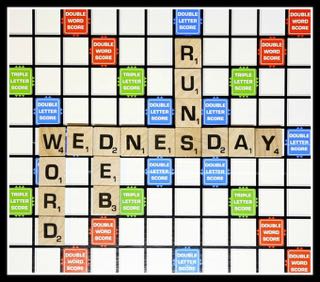 This week the word is wisdom — here's how I'm trying to find some wisdom (or maybe insight is a better word) myself.
Quite a few years ago, a friend suggested to me
The Artist's Way, by Julia Cameron.
It's all about boosting your creativity. It is a good book, set up as a 12 week course, but I'll be honest, with a couple of toddlers running around, I didn't do a very good job of following through.
Here's a link to Julia Cameron's website about the book.
But one of the key elements of her book is the concept of morning pages, where you write three longhand pages about anything at all the first thing in the morning. A few weeks ago I came across
this article
on the Guardian site, entitled "This Column Will Change Your Life" (how's
that
for clickbait!?), and it was all about Ms. Cameron's morning pages. The author of the Guardian article, Oliver Burkeman, considers the pages' relevance in business contexts and in his profession (a writer). He notes their value at "calming anxieties, producing insights and resolving dilemma," and since that sounded pretty good to me, I gave them another shot.
I've been at it for 19 days, and have thus filled up almost 60 pages of a composition book with my early morning musings. I took a glance back at the pages this morning, and let me tell you, there's not a lot of wisdom in there. But they have been immensely satisfying at pouring out all the thoughts bouncing around in my head, and the surprising thing is that I have almost never written about what I had thought about writing about when I first sit down.
Wisdom? Surely not. But insight? Maybe. Check out the Guardian article (
here
is the link again!) or Google "morning pages" — you might find that they add something good to your own day.